Prior experience: Optional.
Passion: Required.
---
EPD University offers installation training programs to provide hands-on instruction to aspiring film technicians. Our courses will teach you everything from installing sun control window film in skyscrapers to applying PPF on Ferraris and Lamborghinis.
---
Jumpstart Your Career as a Film Technician with Job Placement
---
Enrolling in our film installation school will equip you with the knowledge and skills you need to begin your career in a niche trade. After completing any training course, you are encouraged to post your resume on
Career Connect
, the film industry's only online job placement website. Think of Career Connect as the ZipRecruiter or Indeed of the architectural and automotive films and finishes industry. On this marketplace, companies across the country are looking for qualified film technicians.
Meet Your
Film Installation Instructors
---
---
Shawn Hobson   |   Head Installation Trainer
---
Shawn is the lead trainer at Energy Products Distribution. He has 35 years of experience as a film installer and almost ten years as a trainer. Shawn believes that the level of training available for automotive and architectural films is unlike anything that was offered in the past. "When I started in this field we were all basically self-taught or learned from other installers who also had figured things out on their own. The tools, instruction, and support available today makes the learning process so much more pleasant and successful."
---
Pam Rizzi   |   Installation Trainer
---
Pam has been in the window film industry for 24 years and provides customers with onsite automotive film training and technical support. Not only does she teach trainees how to install film on glass and paint, but she also shows them how to operate the hardware and software required to cut patterns. As an added bonus, Pam has expertise in architectural installations.

"I'm passionate about the industry and love bringing new people into it."
---
Marian Giorgakis  |  Installation Trainer
---
Marian has been in the vinyl industry for almost 30 years. As the former owner of Perceptual Motion Graphic Installations, she performed national installations for the U.S. Department of Transportation, United States Postal Service, and Budweiser. She has experience installing vinyl on cars, trucks, SUVs, buses, tractor-trailers, as well as walls, floors, and windows. Marian is now EPD's vinyl trainer, teaching trainees basic (accent stripes) and advanced (full-color change) techniques of vinyl installation. In addition to being a skilled vinyl installation trainer, Marian is also versed in the sales and marketing of automotive window film, paint protection film, and ceramic coating.
---
Dustin Gonzalez  |  Installation Trainer
---
Dustin started tinting in 2002, focusing on windows for homes, offices, and boats. It wasn't until 2005 that he began tinting automobiles. A few years later, Dustin found himself working for a large automotive dealership group installing film on new vehicles. He later learned how to install paint protection film and accepted a position as a trainer with another film manufacturer. Since then, he has traveled the country training new film technicians and has developed a passion for it. When asked about his favorite aspect of training, Dustin replied, "I am still in contact with people that I trained years ago and have built many wonderful relationships."
Average starting annual salary for a full-time film technician
Courses for Installing
Automotive Films
Classes for Installing
Architectural Films
Praise for
EPD University
---
"Thank you so much for taking the time to come teach us, we really appreciate your help." - Julio S.
"You were a big help in speeding up Joe on rear windows. He is doing great." - Mark M.
"Thank you for taking time from your schedule to help us. We appreciate you and feel it will help us in moving forward with our tinting procedures." - Denise B.
"I wanted to take a quick second and let you know how much I appreciate all your help and support! You have helped us through the years find a good installer, training each candidate we brought forward. Now that we have great installers, you continue to help us by fixing our cutting hardware, which means the world to us!" - Pablo F.
---
Take Control of Your Future. We'll Invest in Your Success.
---
---
Forging a new career path can feel overwhelming, but we'll help you every step of the way. Why? Because in addition to our desire to help others find a fulfilling and lucrative vocation, it's also in our best interest for you to succeed. The more skilled window film technicians there are installing our products, the more our distribution business grows. Essentially, we'll provide you with the opportunity to secure a rewarding career, and your success will fuel our growth.
---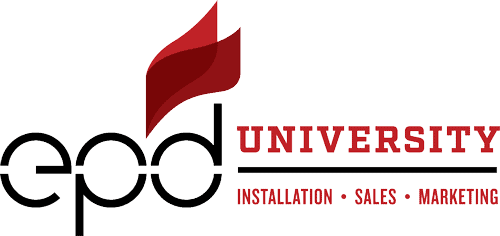 There Are Some Things You Just
Can't Learn on a Computer.
---
And film installation is one of them. EPD University offers the invaluable combination of product knowledge and hands-on technical expertise. We hold our installation courses in person at our training center in Baltimore, Maryland.
---
---
EPD University is not an accredited educational institution. It is simply a framework for providing installation, sales, and marketing training to new members of the automotive and architectural film industries.
Have some last minute questions before registering?
Fill out the form below or call
410-505-7851
.
"*" indicates required fields